70-533: Implementing Microsoft Azure Infrastructure Solutions – Bestdotnettraining
Tired of doing the same routine and mundane job…
Break the barrier open yourself to the world of completely new opportunities. Expand your Horizon and Vision about Cloud Computing. Be an actor and not a spectator in how cloud computing is encompassing the IT industry.
Whether it is a Startup, Midscale or Large Organization, all are now moving away from On-Premise infrastructure to Cloud Infrastructure. Virtual Network and Virtual Machines are taking over providing the advantage of Pay-As-Go model and ability to scale infrastructure if need be. Whether it is a Simple Website or E-commerce Portal or CRM or Office Automation tools or DevOps tools or anything which needs Server Infrastructure – all are now finding their space in Cloud.
Today knowledge of cloud computing is as essential as knowledge of OS for effectively using the system.
In Microsoft Build conference, Microsoft shared with the world how large its cloud platform is and who is using these services. They boosted that they have more data centres than Amazon Web Services (AWS) and Google's Cloud Service combined and that 85% of Fortune 500 companies are currently using Azure in some or the other capacity.
TIME TO LEAVE YOUR COMFORT ZONE AND keep in tune with the developments for your personal career growth– ACCEPT the fact that CLOUD IS THE FUTURE
COURSE OVERVIEW
What is Azure 70-533?Knowledge about the components of the Azure architecture, including the tools, infrastructure and portals are the key focus areas in the training course of AZURE 70-533 which is primarily Infrastructure solutions. The primary highlights, of this course, are, creating Azure virtual machines, configuring and deploying storage solutions and data services
Who needs the AZURE training?This, Microsoft Azure training is targeted for ANYONE who wants to move their current skillset to Microsoft Azure cloud, taking the benefit of unlimited computing, storing and networking power, for personal career growth.
How the training is delivered?The Microsoft Azure course will enable you to design, build, maintain and monitor robust and scalable cloud solutions and most important you will start thinking BIG. This course also focuses on the architectural considerations and decisions necessary when building a highly available solution in the cloud.
Teaching methodology of Mr Sandeep Soni an industry expert is pretty simple, every topic begins with concepts, to position the candidate in a comfortable state to understand what is being talked about, followed by practical demos of, how the feature can be incorporated in real-time situations.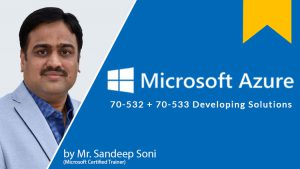 You can experience this by looking at some of his demo videos of Microsoft Azure as listed below and you can also visit.
https://www.bestdotnettraining.com/FreeDotNetVideos/AZURE-70-533